Our latest product, the 5L Black Plastic Bucket with Pull Out Spout is a testament to the H&O ethos of customer service.
This new container was created when one of our trusted customers came to us with a problem that was seriously inhibiting their operations. Their previous plastics supplier was charging too much for a specialist item. They came to us looking for a fast and cost effective solution. As a specialist plastics manufacturer, we were able to offer them a more affordable price without compromising on quality.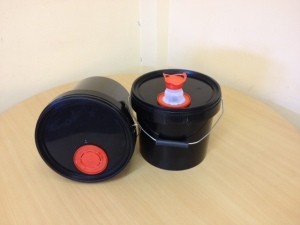 We quickly altered the design of one of our existing Tamper Evident containers by inserting a retractable folding spout into the bucket lid. This product was tailor made for the client. The flexible spout was designed so workers could pour harmful liquids more easily. And because the spout is retractable it means they can be stacked to make the best possible use of the available space.
By manufacturing and selling buckets directly to our customers we are able to work more closely with clients of all sizes to deliver exactly what they need at the best possible price.
H&O can manufacture in your company's colours
This isn't the first time we've bent over backwards to meet our customer's needs. When one of our long-term customers needed greater brand recognition we were able to accommodate by creating an orange bucket with a black lid, matching their company colour scheme. More recently we have helped companies who wanted their logos or other pictures printed on buckets.
Other customer requests we receive relate to how difficult it should be to open a container. Some of our customers who transport hazardous products need container lids to stay tightly sealed for the extent of a journey. Other clients, on the other hand, need a lid to open and close quickly a number of times a day. We work hard to make sure all of our products are tailored to suit specific needs of our customers.
We offer a range of polymer options, sizes and colours so our customers can choose exactly what they need. What's more, we offer a number of other customisation options including Tamper Evident and Food Grade options. And all our products come with a high quality guarantee. To find the perfect bucket for your needs visit our retail website: https://buybuckets.co.uk/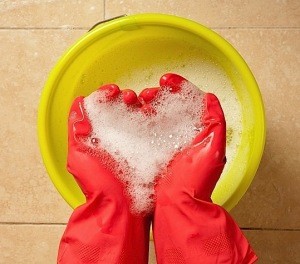 Growing up, we at H&O were always taught that a clean bucket is a happy bucket (we really do eat, breath and sleep buckets). No matter what you are using a bucket for, good practice dictates that you keep it clean and ready to go. This is especially true if you are using a bucket for food preparation.
To retain a buckets integrity and cleanliness, it's also a good idea to only use natural solutions when cleaning. Nasty chemicals make cleaning plastics that little bit more dangerous and way more expensive, especially when you probably have stocks of natural cleaners in your kitchen cupboard.
Fortunately, we were also taught the natural alternatives for cleaning buckets – and far from being old-wives tales, these homemade cleaning products really do work. Give them a try and let us know how you get on!
Cool clean water
The first and most natural cleaning method is also the easiest; just give your bucket a rinse with cold water. If a liquids-container has been left for an extended period of time then the liquid can leach into the material and leave it with that unsavoury plastic smell.
Fear not though, because a quick soak with a garden hose, or better yet, a power washer will soon strip the odour right off. Using cold water rather than warm and leaving your bucket to air outside for a while afterwards can work wonders. Try it, you might just surprise yourself.
Vinegar or bicarbonate of soda
If your bucket stink is too stubborn for just water then you might try using a mild acid or alkaline solution. This doesn't mean you need to break out the safety goggles and Bunsen burners, all you need is a little vinegar or bicarbonate of soda.
Fill your bucket to the top with cold water and add a couple of spoons of vinegar (not the fancy stuff) or a couple of scoops of baking soda and leave your solution to rest for 4-5 hours. Congratulations you've just performed some science! Why not tweet us your results.
Vanilla essence
Our secret wonder-ingredient can be found in any well stocked kitchen. Vanilla extract has so many uses that it's a wonder anyone still uses it to cook with. You can use vanilla essence to freshen up your microwave, oven, fridge, or even to sweeten up a smelly house, but our favourite use has always been for cleaning buckets.
Just combine a few drops with water and give your bucket a good wipe down, or leave a solution in your bucket overnight and you should have a sweet-smelling container by morning time.
Alas, if your smell is so stubborn that none of these tricks work then it might be time to treat yourself. Pick up a new bucket today at bb.ombush.review.