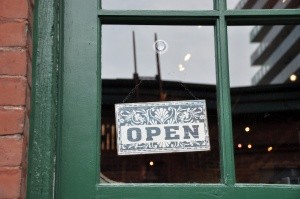 Here at H&O we love to help out small businesses. We know how difficult it can be to keep everything ticking over smoothly, especially when you don't have the same resources as some of your larger competitors.
We work with hundreds of different small businesses providing them with containers to help carry out a wide variety of operations. From storage and transportation to presentation and brand building, our buckets can do it all.
To showcase just a few uses we've decided to produce a short blog post about which types of businesses use our products and how they help in the day-to-day running of operations.
Kitchens, cafes and takeaways
We work with professional chefs in all kinds of different venues – helping them create great tasting food for the whole nation.
Many of the chefs we work with are simply too busy to produce everything fresh all the time. Many of the cooks elect to use our medium sized plastic containers to prepare and store things like cooking sauce before the kitchen gets too busy.
In clean-conscious environments like kitchens, these buckets work really well because they are so easy to clean. This means they can be re-used over and again without worrying about bacteria building up. In addition, we offer these buckets in a variety of colours. This means that professional chefs can easily identify what is in a bucket and prevent cross contamination.
More recently, we helped a more upmarket takeaway restaurant when they needed a larger container in which to deliver some food. They decided to use our small 1L clear plastic buckets because they were larger, and looked more appealing than the containers they used previously.
Tradesmen
Tradesmen like to use H&O plastic buckets because they know that they can rely on them not to break under pressure.
We know that builders vans can get very messy very quickly. We used to have tradesmen coming to us simply because it would take them an age to find the right type of screw or connector in their van. Using small lidded containers they could effectively store and locate all of their kit in no time.
Our containers are also used to transport things around sites. Our large heavy duty handled buckets can make lighter work of heavy lifting  especially because they can be carried by two people.
Vets
Some of our more recent customers include veterinarians. We know that looking after animals day and night can be difficult, especially when they are sick or restless. We try to make life simpler for these animal heroes by offering cheap containers to store food and medicine in.
Because our plastic containers are 100% food safe, and the chemicals do not run from the container into any organic matter – you can be sure that pets are safe consuming anything which has been stored in them.
Farms
Farmers love our products for the same reason as vets – because they can be sure the plastic will not react with animal feed or medicine. But we have also helped more adventurous agriculturalists boost their business with the use of buckets.
This year, when he was due to attend a trade show, one of our clients came to us asking for a bucket with his logo printed on. We were able to accommodate the request and the client took this branded bucket to the trade show where he gave it out to potential customers along with his sales documentation.
The branded buckets will likely be used again and again by his potential customers who will remember the name of his business for as long as the bucket survives (and we can assure you they last for a long time).
Television studios
Yes our buckets have even made it onto the small screen. If any big-time television or movie executives want to make our plastic containers more famous than they already are then just let us know.
Visit our main shop page here.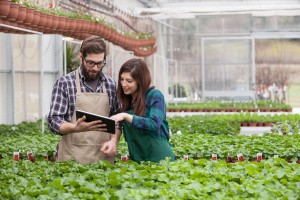 H&O Plastics has been a trusted name in plastics manufacturing for over 20 years. We have a rich history of selling to large industrial clients but we offer the same level of service to our smaller customers.
We understand that plastic buckets aren't the most exciting of products, but we take pride in manufacturing buckets of the absolute highest quality and providing the best possible service to all of our customers.
We are also proud of the size of our product offering. Buybuckets.co.uk has a plastic container for every possible function and occasion. We offer buckets in a range of sizes and colours and with additional features like tamper-evident lids.
H&O manufacture and sell high-quality containers
Many other companies are able to offer cheap prices because they import lower-quality buckets from countries in Eastern Europe and Asia. Although they are cheap, these buckets are far more likely to crack or smash, especially if they are travelling over long journeys.
Using lower quality buckets risks damaging your precious cargo and perhaps more importantly, your business' precious credibility.
Any small business owners whose operations involve the transport of goods over long distances would be well advised to select quality containers every time.
Customers get the best value buying multiple buckets
As well as being of a better quality than most other plastic containers, H&O buckets are among the cheapest to buy online.
Our position as both manufacturer and distributor puts us in a good place to offer customers better value for money.
By cutting out the middle man we're able to pass on our savings to our loyal customers. And the more buckets you buy, the cheaper it gets.
That's why we are loved by small business owners who are looking to buy containers in larger quantities than private individuals, but lower quantities than some of our industrial clients.
For customers that are based around the Liverpool area, you can save even more money by coming to collect your order from our factory in Merseyside. By buying multiple containers at once, our customers are able to save on travel expenses which remain relatively constant on order quantities between 10 and 100.
Plastic containers for small businesses
Whether you run a takeaway, manage a restaurant or own a dairy farm, you will be able to save your business some money if you buy directly from the manufacturer.
In fact anyone who is buying more than one container stands to save money with H&O. At the same time you can be confident in the knowledge that you have invested in a higher quality product as well as in your business' reputation.
You can also take some personal satisfaction from knowing that you helped support a long-standing British manufacturing business.
You can browse our product range of H&O buckets from the products page of this website.
Building supplies have to be tough and durable if they are going to withstand the stresses and strains of modern building sites. Here at H&O we know that builders, electricians, joiners and plumbers love sturdy supplies that can be used time and again.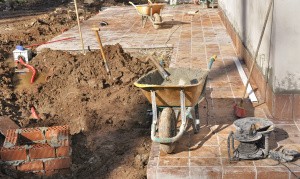 Investing in quality the first time round means that you don't need to be replacing equipment every year and you get to keep a larger share of our profits.
We know that it can be tempting for apprentices to skimp on their first tool kit but any seasoned tradesman knows that long-lasting equipment is an investment worth making.
H&O manufacture and deliver a huge range of heavy-duty plastic containers that are perfect for tradesmen.
Buckets for building sites
Whether it's storing equipment or transporting heavy supplies between sites – plastic containers have countless potential uses on building sites. They can make mixing on site significantly easier .
We've worked with lots of tradesmen who just want a place in their van to store all the odds and ends that appear over the course of a job.
Construction companies also love our heavy-duty plastic jerry cans which they can use to fill up diggers and other plant equipment (without the dicey drive to a petrol station).
Advantage of going direct to the manufacturer
There are hundreds of plastic container suppliers to choose from in the UK. Many of the larger internet companies though, source their plastic containers from cheap suppliers overseas and distribute them in the UK.
These foreign made buckets which travel here from continental Europe and the Far East are cheap but they also tend to break easily, especially in hostile environments like on building sites.
What's more, large-scale distributors will often require a large minimum order quantity – meaning smaller independent tradesmen cannot take advantage of the best rates.
H&O do things differently
We manufacture and distribute all of our containers from our site in Merseyside. There are no minimum orders and buckets can even be personalised with a range of different colours to choose from.
Most importantly for builders though, H&O plastic containers are the toughest buckets around. We don't skimp on the raw material so the containers are far more heavy-duty and durable than their imported rivals. They can store bricks, cables and harmful chemicals without breaking a sweat - and they can withstand a good kicking from time to time.
If you are based in the Merseyside area, you can arrange to collect your plastic containers directly from us and avoid delivery charges.
To order from our range of heavy duty buckets (with lids), please call us on 051 639 0002.