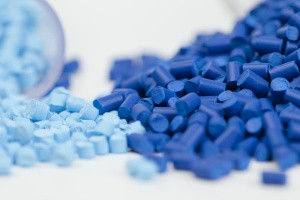 H&O Plastics manufacture and distribute buckets to businesses and individuals nationwide. We fulfil large contracts as well as smaller orders via our website. In total H&O plastics sell around two million plastic containers and other products every year.
Designing, manufacturing and delivering this many buckets each year is by no means easy. Our Birkenhead factory is open round the clock churning out thousands of containers each week.
Buying directly from the manufacturer means that there is scope for flexibility on an order – no matter how big or small it is. If you would like us to fulfil a large manufacturing contract then get in touch with a member of our production team and they will be happy to accommodate.
Polypropelyne container manufacturing
The chief input in the injection moulding process is polypropelyne. This thermoplastic polymer is common in almost every plastic household item – including plastic chairs, stationery and toys.
It's a hard and tough material which is very stress resistant. It is also resistant to electricity and harmful chemicals as well as high heats. Polypropelyne has a high 'softening' point and doesn't melt below around 160 degrees Celcius (compared to polyethylene which melts at about 100 degrees C).
In addition to polypropelyne we are familiar with using different thermoplastics and are always open to trying new things if the job requires.
Injection moulded plastic buckets
Making large quantities of plastic buckets is not easy. Some of our clients order 100,000 containers at a time and our commitment to returning orders as quickly as possible means that we need a highly efficient production method.
Injection moulding is fast, efficient and produces high quality plastic buckets, every time. We take the polypropelyne in pellet form and heat it at around 200 degrees until it is completely fluid. The melted polymer is then fed into the desired mould where it cools and sets very quickly.
The process for coloured plastic containers is a little different. During the melting process we add a dye known as a master batch to the polymer mix.
We are able to produce buckets in a wide variety of colours to client specification. In most case we are able to match client colour schemes very closely and able to offer lots of different colours.
Big contract manufacturing capability
Because we are trusted to fill such large orders in a timely manner it is important that are capabilities are up to scratch of a national manufacturer.
We have a large stock of quality Sandretto and Negri Bossi moulding machinery ranging between 250 and 500 tonnes. Each of these machines can produce between 80 and 150 plastic containers per hour meaning we are able to meet contract manufacturing jobs comfortably if given enough notice.
And because we already invested in the machining capability, the 'moulding' aspect of the machine is not that much added expense. This means we can produce a wide variety of designs in an even wider variety of colours.
If you would need some plastic container manufacturing work undertaking then get in touch with a member of our team now. We can be very flexible around client demands and can easily alter colour, shape, lid design and tamper proofing.
To discuss your needs call a member of our production team today on 0151 6399 0002.
Looking for a bucket with a lid? At H&O, all of our plastic containers come with lids (or at least the option of a lid). We don't stop there though - because we manufacture lidded containers and sell them directly to the public it means that we can be flexible around the demands of our clients.
Click here to browse our range of buckets with lids now
We have several different lidded bucket designs which are available for purchase on our website. Some of these lidded buckets have even been made bespoke for our clients. If you want us to design and manufacture a bucket with lid for your business just get in touch and we will help in any way we can.
Different lidded buckets with handles
We have created a huge array of buckets with lids for clients in numerous industries. Take a look at some of the results.
Tamper proof lids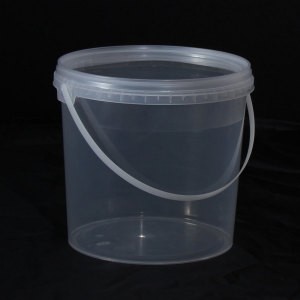 On most of our products, tamper evident lids come as standard. Tamper proofing is important to many of our customers, particularly those in the food preparation industry or those involved in the manufacturing of harmful chemicals.
In these sectors it is crucial that customers know the integrity of their product has not been compromised before it reaches them. Tamper evident containers come with a plastic tab which must be removed before the lid will open. This means the end-user can always be safe that no one has interfered with a product before it reaches them.
Shop for tamper proof lids online
Non-tamper evident containers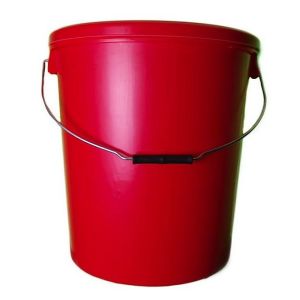 Although many of our clients prefer the peace of mind which comes with tamper evident containers – there are others who simply don't need interference proof lids. For example, we work with several tradesmen who purchase containers to store things like tools in. These clients are constantly reusing the buckets and the plastic seal can look messy once removed.
Because we manufacture the containers ourselves it is very easy for us to accommodate different designs like non-tamper evident lids. If you are in any doubt just call a member of our team.
Charity bucket with lid (with slit for coins)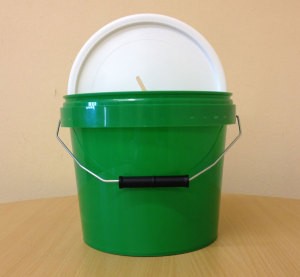 We also produce a range of containers which are designed especially for charity bucket collections. These buckets are, for all intents and purposes, the same as our other products but the lid contains a small slit wide enough to fit coins of all denominations in.
These buckets also come with the tamper evident tab feature which ensures nobody can access the collected money before it is returned to charity headquarters.
Shop for charity buckets online
UN bucket with lid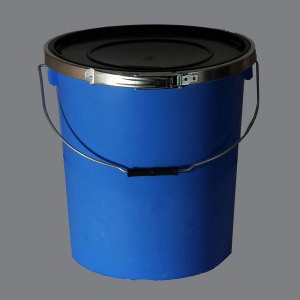 Our UN approved containers are very high quality. They are injection moulded with a high impact polypropylene making these containers extremely durable.
UN buckets are also fitted with a very secure lid, as well as rubber seals around the outside and a metal band to fasten it in place. Because of their added security features these containers are suitable for companies producing material which has the potential to pollute the environment. Especially if the material is being transported long distances or over national boundaries.
Shop for UN containers online.
Spout buckets for easy pouring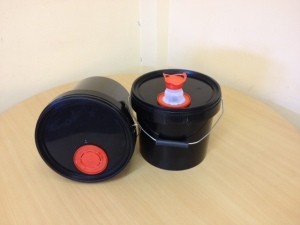 We also have products with more elaborate lid designs. One of the most unique products is our pull-out spout bucket. This container was designed especially for one of our customers who couldn't get a stackable pouring bucket at a fair price. We managed to create and manufacture this one at a fraction of what he was paying from his previous plastics supplier.
The lid on this bucket contains a retractable 'pop-out' pouring spout which makes pouring chemicals and other potentially harmful liquids very easy. When not in use the spout folds neatly back down into the bucket lid meaning the containers can be stacked and shipped with ease.
Shop for spouted pouring buckets online
Here at H&O we do a lot of business with manufacturers specialising in the production of chemicals, inks, dyes and other pigments.
Our plastic containers are ideal for the storage and handling of sensitive materials which have the potential to harm the environment or even the people they come into contact with.
Perfect for storing and transporting chemicals
H&O Plastics only make high quality containers; we use highly-resistant polymers in our buckets and use more raw material than other competitors in the market.
This means that you can be sure that an H&O container will be tough when it counts, making them the perfect receptacles to store hazardous liquids in.
Containers must comply with UK pollution regulations
If you are in the chemicals, inks, dyes and other pigments industries, a set of Environmental Damage Regulations or Environmental Liability Regulations will probably apply to your business (depending on whether you are based in the UK). These require organisations which carry out 'economic' activity to "prevent or limit the environmental damage they cause."
Generally, these regulations focus on pollution caused by private businesses, as well as not-for-profits.  This includes pollution:
Through surface water drainage systems
Through direct watercourse run-off
Through soil and drains
Through faulty sewer systems
Businesses must take a long list of precautions when transporting or storing chemicals on-site. Those involved in handling potentially polluting materials need to be specially trained - and they need to be able to rely on their equipment.
Guidelines from the Environment Agency suggest that the first line of defence is in the 'primary' container. This is usually the smaller bucket or drum in which a chemical is stored or transported.
The Environment Agency recommends that in order to be compliant, you must "make sure your primary storage containers have sufficient strength and structural integrity so they don't leak or burst in normal circumstances."
They recommend that for absolute peace of mind, you use specially designed UN Containers. These approved containers come with a secure lid, as well as a rubber fitting and protective metal strap to ensure they are 100% leak proof. This is especially important when storing or transporting sensitive liquids.
If you are involved in these kinds of activities it is imperative that you frequently check for signs of stress in your stock of primary containers – and replace any containers which show visible signs of damage.
Here at H&O we are proud of delivering a superior product - we are confident in assuring all of our clients that our buckets are among the sturdiest and most hard-wearing.
We make sure to check all of our containers during the development stage of production and faults and breakages are absolutely minimal. This means our containers do not have to be replaced as frequently as more flimsy imports – saving your business money in the long run.
Tamper-evident lids for added security
The other advantage of using H&O Plastics to store and transport your chemicals is that we manufacture and stock a huge range of tamper proof containers. We know how important this is when dealing with sensitive materials.
It means you and the customers you are distributing to can be safe in the knowledge that a product hasn't been interfered with in any way before it reaches its final destination.
You can browse and purchase small volumes of our heavy-duty plastic containers online. Or if you wish to make a larger order, please call a member of our team on 0151 639 0002.
At H&O, we are always designing and developing our products in line with our customers needs and wants. Our latest design has been developed specifically for the fibre glass industry.
This new design has a perfectly flat base which makes it ideal for mixing and storing products such as resins and floor repairing kits. Most, if not all, plastic containers have various ridges on the base that increase the strength of the container. However, listening to our customers in the fibre glass industry, we've discovered that these ridges make it difficult for mixing and create problems when trying to remove the remaining product at the end.
With this in mind, we've developed the perfectly flat bottomed bucket which allows complete mixing and emptying. When fibre glass resin or filler hardens, the product can be knocked out of the container and the container reused.
This container is an ideal size at 10 litres for repair and filling jobs and, if required, it can also be supplied with a lid.
Despite H&O manufacturing plastic containers for 20 years, we are still surprised at some of the ways that our customers use our products. Recent orders for this container have been also been used in commodes!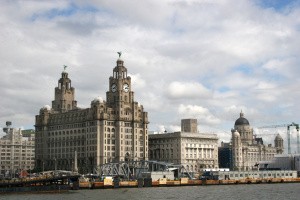 Do you own a business in the Liverpool area? Maybe you are centred in the North West? Why not collect your plastic containers from our Birkenhead factory and avoid delivery charges.
H&O provide first class delivery options
At H&O Plastics we are incredibly proud of our handling and delivery capabilities. We have our own courier group which delivers large and small-batch orders up and down the country.
Our delivery is fast and reliable. In many cases, we have the containers ready to go so we can get your order to you intact within three days.
Running our own distribution network ensures that our customers get a first-rate service from their trusted manufacturer.
It also means that we can guarantee bigger economies of scale for larger business orders because we don't have to use couriers who can charge high premiums for larger orders.
Or collect from the factory
We do, however, allow customers to collect their orders from our manufacturing site completely free of charge.
Our doors are open Monday to Friday for local customers to come and collect their orders. This is perfect for businesses who are only ordering small quantities. Local small business owners love the fact that they can drive down the road, pick up their order and fit them in their car or van.
The team are always eager to meet our customers in person - and you can have the opportunity to come and see where our buckets are made.
Easy to get to destination in Birkenhead
Our factory is situated in a great location just over the Mersey in Birkenhead. We are very close to both the A59 and A5139, with good transport links from the M62 and the M53.
Because of our close proximity to major road networks, we even get people from surrounding areas such as Wigan, Warrington and Ellesmere Port coming to collect their buckets. For some orders, these customers can really save money by avoiding the delivery charges.
Love business in Liverpool
We work hard to help businesses in Liverpool. Many local companies rely on our containers to store, transport and package the products which they work hard to create.
In return, lots of businesses choose to support their local manufacturer by purchasing our higher quality products. In this way our businesses can support each other and help foster growth and development in the local economy.
Come and say hello, we are keen to hear from you. Simply purchase your desired plastic container online, select the collection option on the 'cart' page and collect your products when they are ready.
If you have any questions don't hesitate to talk to a friendly member of our team on 0151 639 0002.
If you are planning to come and see us then our address is:
Britannia House
Dock Road
Merseyside
CH41 1DF