Although it may not feel like it in many parts of the country (especially in Liverpool), summer is here!
The summer solstice has been and gone and, like us you are probably looking for a project or two to keep you (and the kids) entertained over those long summer days. We've come up with a few home and garden projects which should make for some summer time smiles.
What better way to spend those long summer days than out in the fresh air making your garden that little bit more enjoyable.
Homemade plastic bucket plant pots
If you have a small or paved garden then you can add flowers and greenery by using plant pots or planters. The trouble is though that these can be very expensive, particularly if you want a lot of them or if you want to create a 'layered' planting effect.
Cheaper plastic buckets are a great alternative to your traditional stone plant pots and with H&O's extensive range of sizes and colours there is plastic plant pot to fit every garden.
If you want to create a bright and vibrant outdoor area then our range of coloured buckets could be right for you. This style can look great on city balconies or in roof gardens where there is often an absence of greenery and colour.
If you want a monochromatic garden colour scheme then you could use a white or black plastic
Just be sure to cut or drill some holes into the bottom of the buckets to make sure you do not overwater your plants.
DIY water butt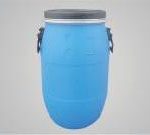 Water butts are a great way of being kind to the earth and recycling rainwater to be used again in the garden. Again though, these large containers can be incredibly expensive – some of the larger ones cost as much as £80.
We love a good do it yourself project at H&O and this is a great one for environmentally conscious handymen and women. Our rainwater collection solution is essentially just a large plastic keg with a feed pipe running down from the gutter.
You can even add a cheap stop-flow tap to give you easy access to all of the water.
Grow (and sell) your own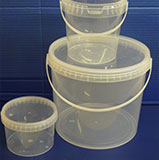 If you are a more serious, grow-your-own gardener then our smaller food storage containers are right for you. Whatever you are growing this summer - our clear, food-grade plastic pots will be able to store them. They are great for storing soups, sauces, jams and chutneys.
You can even use these pots to make a little extra pocket money this year. All of the clear containers come with tamper-evident lids meaning that they meet the requirements for packaging and selling food.
Make a summertime homebrew
If you prefer to enjoy your garden from afar, with a beer in your hand then we have got the right project for you. Homebrewed beers and ciders are even more rewarding than their shop-bought cousins (and some say they taste better as well).
H&O offer a range of scaled-down brewing containers which are perfect for making small-batch beers and ciders to be enjoyed by friends and family. If you are serious about brewing then we recommend investing in a 30L container to make nearly 60 pints (if you're counting).
If you decide to make any of our summer projects, make sure you let us know on Twitter. 
We had a special visitor at the factory this week and he performed a little street drumming freestyle for the team. Watch the video below and look out for him on the streets of Liverpool, using H&O Plastic buckets of course.
To see more of what goes on behind the scenes at the H&O factory follow us on Twitter.
Keen-eyed bucket shoppers may have noticed the latest addition to the BuyBuckets range which went live on the website this week. We are pleased to announce our newest product category as screw top plastic jars.
These new products are perfect for transporting, storing and displaying a range of different substances and products including creams, powders, tablets and foodstuffs.
Meet our newest plastic containers
Our latest offering is a range of white, screw-top jars which will seal as tightly as you can screw them. These extra tough plastic containers are tamper resistant and food-safe, meaning that they can be used to store a range of sensitive substances.
They come in a range of volumes (250, 500, 1000 and 1250ml) and lid diameters (70-115mm). They can be purchased for less than £0.40/unit.
The screw top means that the lid can never come off accidentally, making this the perfect containers for things like face creams and tablets which could potentially make a mess or cause environmental damage, if released during transit.
All of the plastic jars are fully opaque so your product will always be protected from sunlight. The sheer white colour also means that jars can easily be labelled with printed stickers or with black marker pens.
Store, transport and display all of your creams, powders and foodstuffs
These products were designed with some key products and customers in mind.
We think that this product would be perfect for storing, transporting and displaying a whole range of products including:
Creams
Powders
Tablets
Cosmetics
Other pharmaceuticals
Paints
Dyes
Pigments
Spices
Granules
Honey, jams and marmalades
Sensitive foodstuffs
And they could be used by a bunch of different people including:
Cafes, takeaways and restaurants
Pharmaceutical companies
Hobbyists
Beauticians
Would these containers make running your business easier?
We love it when our products make life simpler for business owners. Sometimes even we are astonished by the difference a simple plastic container can make to daily business life.
If one of our products has made the difference for your business then be sure to let us know on Twitter.
In the meantime browse our range of containers today and see how we can make your life easier.