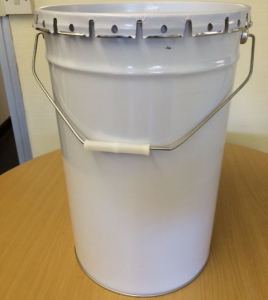 Due to an unexpected manufacturing over-run, the H&O Plastics warehouse is full to the brim with Crimped Lid Metal UN Containers which we need to shift as quickly as possible. To sell this surplus we have slashed the container price and plan to sell them in batches of 121 on the Buy Buckets website.
These containers are fully compliant with UN container specifications, meaning they are safe for national and international transit.
Volume – 27 litres
Diameter – 292mm
Batch size - 121
Price per batch £266.20
All containers come with a crimped lid
Fully compliant with UN specifications
The discounted batches of 121 units will appeal to those transporting large quantities of harmful or polluting materials across national borders.
The batch price of £266.20 equates to a unit price of £2.20 per container, a significant cost saving for exporters who need to use metal buckets. Pick up a bargain today.
UN Approved Metal Pails
Our range of UN certified metal pails are manufactured from high quality raw materials sourced responsibly from H&O approved suppliers. The discounted containers all come with a crimped lid to ensure an air tight seal.
These 121 batches are perfect for storing, transporting and decanting liquids with 'aggressive' properties. The metal will not corrode under abrasive conditions and the seal-shut lids ensure that no liquid will escape during transit.
UN Approved Metal Containers, Suitable for:
Paints
Inks
Varnishes
Solvents
Oils
Sealants
Buy discounted metal container batches today.
We've put together a list of the top tools and supplies which cash- strapped painters and decorators can use every day. These supplies are sure to make any busy decorators job that little bit easier, especially if they are looking to achieve a bespoke look for a budget price.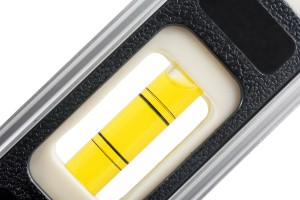 While not a tool in the traditional sense, this spirit level app for iPhone and Android is definitely part of the modern decorators tool kit. As accurate as your trusty bubble-level, iHandy has been downloaded over a million times on Android alone, and best of all – it's absolutely free.
If there is one thing that a painter-decorator can't have enough of, it's plastic paint kettles. These versatile containers are perfect for transporting or storing unused paint overnight so that it doesn't harden.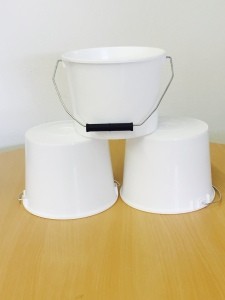 Coming complete with a padded metal handle, sloping sides and a lipped rim, these plastic paint pots make pouring paint easy and mess-free. The sturdy design means that your kettle will last for ages. And because they're so cheap to buy direct from Buy Buckets, you can buy a different kettle for each day of the week, avoiding the cross-contamination of different paints.
As decorating supplies go, they don't come much cheaper than reclaimed wood or timber. Every building site, tip and specialist reclaimed store is teeming with unused panels, crates and pylons which are just begging to be turned into something beautiful.
Perfect for those who aren't afraid of a little carpentry, reclaimed wood can make awesome-looking cabinets, panelling and art installations.
As recycling and the idea of a circular economy get more popular, reclaimed wood is becoming more and more ubiquitous.  Any decorator who masters the art of the reclaimed will be in high-demand with a certain type of earth-conscious consumer.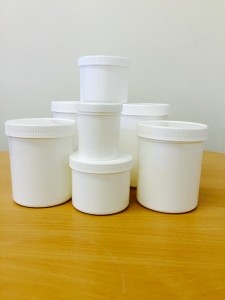 Safe and secure plastic paint pots are hard to come by for decorators. Finding a paint-safe container which is completely leak proof, at the right price is a rare achievement. Fortunately, Buy Buckets range of screw to paint pots fit the bill perfectly. And if you buy in serious quantities, then the potential savings are huge.
These pots come in a range of sizes so you're sure to find one to suit your needs.