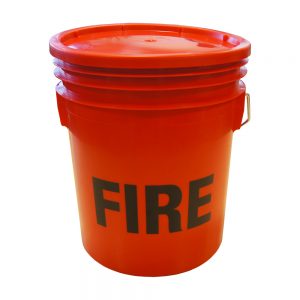 H&O Plastics has launched its hottest new product, bright red plastic fire buckets that are significantly cheaper than metal alternatives.
Although fire-fighting technology has moved on quite a lot in the past couple of decades, fire buckets still have a place in certain environments. And this bright plastic container is a modern and cost-effective alternative for businesses across Britain.
They are suitable for preventing or extinguishing small fires, especially flammable liquid fires.
The heavy duty printed plastic containers are just as durable as their metal counterparts and will not dent or rust in outdoor conditions (think rainy garage forecourts and campsites).
With a massive 16 litre volume and the word 'FIRE' writ boldly across the bucket face, these colourful buckets will not be missed in an emergency.
Starting at £5.10 for one bucket, the containers are among the cheapest on the market. They are certainly the largest and sturdiest fire buckets that you will get at a similar cost price.
Buying directly from the manufacturer means you get top quality products at rock bottom prices.
There are also heavy discounts for vendors willing to purchase in higher quantities.
Plastic fire bucket VS. Metal fire bucket
Plastic buckets:
Are cheaper
Won't rust
Won't dent
Can be printed
Fire buckets today
Fire buckets have largely been replaced by modern fire extinguishers. But buckets are still a popular low-tech solution in some environments.
In particular, they are still used on petrol forecourts where they are filled with sand that can be used to cover petrol spills. Sand can absorb flammable liquid making it less dangerous and reducing the risk of ignition and explosion.
Fire buckets are routinely placed on special stands at petrol stations for staff and customers to use.
Sand can also be used to extinguish fires and sand-filled fire buckets can often be found on campsites, in public and private corridors, and in cooking areas like next to outdoor barbeques.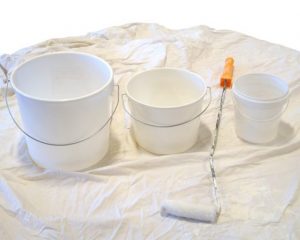 H&O Plastics is pleased to announce that the newest product category on its retail website features some of the cheapest paint kettles available on the internet.
Our 2.5 litre paint kettle and 5 litre paint kettle are, as far as we can tell, the cheapest that you can buy online.
Paint kettles make up the newest product category on the BuyBuckets retail website. And they are nothing if not basic. Manufactured from polypropylene, with a simple metal handle, they are more lightweight than a lot of the other products on our site.
But customer feedback tells us that this is exactly what painters and decorators want – cheap paint kettles that can easily be replaced if they get too dirty. In short, they want good value for money and this is exactly what H&O Plastics try to deliver every day.
After some quite thorough digging on the internet we are confident that these are the cheapest or among the cheapest paint kettles available to buy online.
Paint kettle prices
5 litre – 3 units (lowest available) cost £3.06, 10 units cost £9.84 and 300 units cost £234.00
5 litre – 1 unit is £1.20, 10 units cost £11.40 and 300 units cost £270.00
All products are without lids.
Flat bottom plastic paint kettles
Paint kettles come with a flat bottom to make paint mixing easier.
Using a paint kettle allows painters and decorators to reseal the original paint tin while working. Only using a bit at a time prevents contamination between paints and stops expensive paint evaporating away.
Why buy from BuyBuckets
BuyBuckets is owned and operated by H&O Plastics, a Birkenhead-based plastic bucket manufacturer. The company believes in providing high quality products, made in this country, at the most competitive prices.
Because we manufacture and distribute most products ourselves, they represent good value for suppliers and anyone that wants to purchase in large volumes.
If you would like to enquire about trade orders and the possibility of bulk buying discounts, then please contact a member of the team. Call: 0151 629 0002.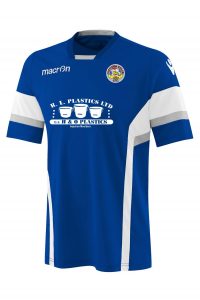 H&O Plastics is pleased to announce that it will be sponsoring the Victoria Colts' Under 13s team this season.
The team plays near H&O Plastics' factory site and one of the company's employees has a son who plays on the team.
Playing in the Wallasey League, Victoria is a very community focused club. They take in players from Bebington, Rock Ferry and Tranmere to make up 19 teams from Under 6 to Adult.
Victoria has three girls' teams and a Futsal team, and they train players from all sorts of backgrounds.
The team aims to get all its managers and assistant managers fully qualified with FA Badges (Level 1 and above).
Like many others at H&O Plastics, Manging Director Bob Lavender is a keen football fan and has been a Liverpool FC season ticket holder for many years.
"Fundraising is a challenge for amateur football teams and I'm just glad that we can help out in a small way," he said.
He continued: "With so much footballing talent coming from Merseyside over the years, who knows, we might even end up supporting a future star."
Victoria Colts U13s train on Wednesdays at the Oval and play matches on Sundays. The team is currently looking to add more players to its squad. Anyone who is interested should contact Danny via the team's website or on Facebook.