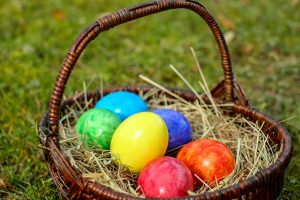 Easter is coming up fast, and the children will be out of school soon. So now is the perfect time to start organising some Easter activities.
If a tradition at your home, school, nursery or playgroup is to have an Easter egg hunt then decorating an Easter bucket can be the perfect crafty pre-cursor to Easter chocolate.
H&O Plastics manufacture plastic buckets in dozens of sizes, and you can buy them in bulk for larger groups of kids.
Here are some of our best Easter bucket decorating tips:
Easter bucket decorations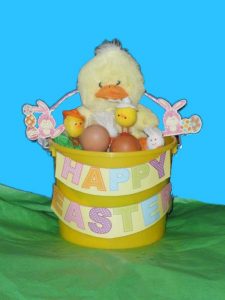 There are all sorts of ways that you can decorate plastic buckets with an Easter motif.
One of the most important things to bear in mind when decorating with an Easter theme is to keep a close eye on the materials that you are using.
Some materials are more Easter-y than others.
Because it coincides with the start of Spring, fresh natural materials go hand in hand with Easter. Symbolising fresh-born lambs, cotton wool balls make for excellent decorative flourishes.
Flowers, petals, leaves and long stems can also work well and so can shells and sticks.
Think about what children could collect from their nearby environment to decorate their buckets.
Other materials like craft paper and fabric can also work well. Try cutting out paper flowers and sticking them onto the buckets (or just use stickers).
You could also tie a length of ribbon around the neck of your buckets or, if you are going for a more rustic look, then try cutting an old hessian sack into strips for decoration.
Other ways to decorate buckets
Pick a colour that will stand out - H&O Plastics stock a huge range of brightly coloured buckets, so whatever a child's favourite colour is, you can find a coloured bucket to match on our site.
Line your bucket with something special – The inside of your bucket is just as important as the outside. You have to make sure that you line it with something special. Colourful craft paper can make your buckets stand out, or for a more traditional touch you can try and find some hay to protect those precious Easter eggs.
Print names on the buckets – If you are organising a big Easter egg hunt then you might want to print all the children's names on their buckets. This should stop any quarrelling over buckets and it adds a personal touch that won't go unnoticed.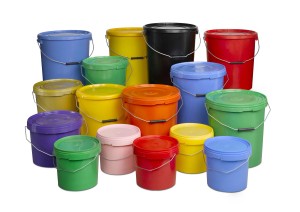 Painting on plastic buckets
Painting on your plastic buckets is a good and attractive way to decorate your plastic buckets for a bumper Easter egg hunt. But the problem is that not all types of paint work on plastic.
Some just won't stick and some will streak making it difficult to apply.
Oil and enamel paints are the best paints to use on plastic. These paints make strong bonds with the plastic and they aren't washed off easily.
Enamel paint comes in spray cans and is a good choice for large plastic surfaces that require a lot of paint in one colour.
You can use stencils and paint cans on the buckets, and create a lot of different buckets. Easter eggs would make an easy crafting idea as would an Easter bunny.
Be careful though, because stencilling usually requires the use of a sharp craft knife or blade. Adults should do this part. Spray paint an d other kinds of paint that work well on plastics can be harmful to children if not used correctly.
Children should be well-supervised during these activities, or a responsible adult should take over for some of the most dangerous parts.
Oil paints come in tubes and are good for small projects and projects requiring detail work and custom colour mixing.
Make sure before you do any painting on your plastic buckets that you thoroughly clean all the surfaces to get rid of any grease or dirt.
It might help if you put down a base layer of a neutral tone like white or beige and then put a more vibrant colour over the top of it.
There is something magical about camping with a campfire.
After a long day of walking, exploring or just relaxing in the Great British outdoors, there is nothing better than getting back to camp and being greeted with the warmth and smell of a roasting hot fire.
Campfires are perfect for cooking your simple evening meal and they make a great focal point for idle chats and stories told deep into the night.
But campfires can be dangerous. If they aren't treated with respect then they can be a danger to you, your loved ones and the environment, so it's important that you use a campsite campfire responsibly.
First things first
Although they are a firm favourite with campers, campsite fires are a dying breed, mainly because there aren't that many campsites that permit them anymore.
If you are dead set on a campfire, then you must choose a campsite that allows fires.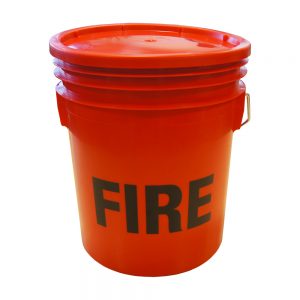 Picking a location is the next key. Many campsites will mark out designated fire spots, usually circled by a ring of rocks or stones.
If there are no marked spots then you should choose a clear spot away from trees, bushes and overhanging branches or vegetation.
To make life easier, you should also look for a spot where there's a natural windbreak.
Making your own fire ring out of loose stones in the area will make your campfire easier to control.
Before lighting your fire, you should have a plan for how you will put it out. If you are on a campsite it is good practice to identify the nearest fire point. If there is no fire point then you should have your own fire bucket nearby filled with water, sand or fire absorbent powder.
Find fuel
Choosing the right fuel is the next most important ingredient to a successful campsite fire.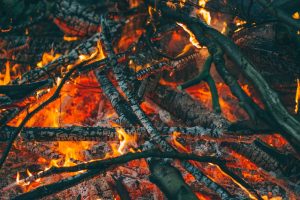 The most available source of fuel will almost always be sticks and firewood that you should collect from nearby woodland. Remember to respect your environment by only ever picking up firewood from the ground and never off standing trees.
For a rip-roaring fire you'll need tinder, kindling and fuel.
Tinder should be no thicker than the width of a pencil lead and no longer than the length between your outstretched thumb and pinky.
Kindling should be no thicker than your thumb and no longer than your forearm. And fuel should be about as thick as your wrist and about the length of your whole arm.
Remember to start your fire off small and slowly add larger pieces to build it up.
Campsite fire safety rules
Never build a fire close to tents or vegetation.
Keep tents and caravans far apart to prevent fires from spreading.
If you are using a campsite stove or barbeque then make sure it won't tip or blow over.
Don't use petrol, lighter fluid or other flammable liquid to start a fire. Use firelighters or dry tinder.
Only build a fire as big as you need it.
Never leave a fire unattended.
Keep a fire bucket close by.
Make sure you fully extinguish your fire by bashing it with sticks or drenching it with liquid. Make sure all the logs and embers are cold before you leave the campfire.
Fire safety should be a top concern for campsite and caravan park owners. Whether you just let out a small parcel of land, or run a multi hectare campsite, you can't shirk your fire safety responsibilities.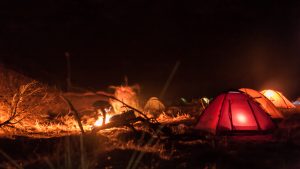 According to Direct Gov, a fire can destroy a tent in less than a minute and nearly one caravan catches fire every day.
Keeping good, well-stocked fire points at regular intervals across your site is crucial to keeping customers safe.
It is also essential if you are to get and keep a campsite or caravan park licence from the local authority.
Licences are essential for permanent and seasonal campsites that host tents for 42 consecutive days at a time or more than 60 days in 12 consecutive months (except in Scotland).
A good fire safety record is one of the big pre-conditions on which campsite licences rest. And they are subject to regular inspections by the local authority.
Gas safety certificates, spacing between units, fire points and other aspects may be inspected, and failure to comply with site licence conditions may lead to prosecution.
Campsite fire point requirements
Your fire point needs to be safe and it also needs to pass inspections from your local authority.
Conditions laid out in the Caravan Sites and Control of Development Act 1960 represent a model of good practice that local authorities should consider when awarding campsite licences.
The legislation lays out some measures of good practice, but it also gives a high degree of authority to the local fire service, which it says the council should consult on local conditions and requirements.
For this reason, it would be a good idea to contact the local fire authority and see what their recommendations are.
It may be that local weather patterns require more fire points than is standard across the country.
As good practice, the legislation recommends that fire points should be no more than 30 meters from a fire point. This means that you should lay out your campsite with fire points in mind.
You should also ensure that tents, motorhomes and caravans are pitched at least 6 meters apart to prevent the spread of fire.
The guidelines also call for fire points to be housed inside weatherproof structures, that are easily accessible and well labelled as a 'Fire Point'.
Fire point equipment
Where water standpipes are provided and, and there is a water supply with a good enough flow to shoot water about five meters, these standpipes should be positioned at every fire point.
The standpipe should be fitted with a reel conforming to British Standard 5306 Part 1 and a hose that's at least 30 meters long.
Everything should be well marked and ideally housed in a red box with the words 'Hose Reel'.
Where standpipes are not provided but there is a water supply of sufficient pressure and flow, fire hydrants should be installed within 100 metres of pitches.
Access to hydrants and other water supplies should not be obstructed or obscured.
No standpipes or hydrants
If your campsite is not well equipped with standpipes and hydrants and there is no way of boosting the water pressure to substantial levels, you must provide standalone fire points.
These should contain two fire extinguishers, two filled fire buckets and ideally a hand pump or bucket pump.
Many smaller campsites and temporary campsites (such as at festivals) will have this arrangement.
There should also be some type of alarm to alert other campers tot the danger. This can be a large gong and striker or a hand operated siren. You should also display advice on the best way to contact the fire authority.
For quick fighting of small fires or for different types of fire it can be a good idea to have fire buckets outside tents and caravans or at more regular intervals to help prevent small fires spreading.
It is important that you make sure this equipment is in place. If you have recently bought a campsite it is important that you check it complies with the regulations because the previous owner may have neglected them.
Fire buckets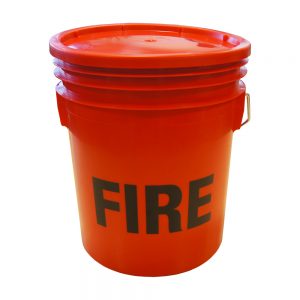 Fire buckets can be filled with water, coarse sand or special fire 'absorption' powder. They require very little maintenance and are useful for tackling small blazes before they have a chance to develop into larger blazes.
Fire buckets are particularly useful in outdoor environments where there is a higher than normal risk of fire, such as on petrol station forecourts and on campsites with lots of flammable structures.
H&O Plastics manufacture and sell high quality plastic fire buckets that are designed to withstand the elements and live outside for a long period of time. Bold colours and lettering also make these buckets easy to spot in an emergency.
More campsite fire safety tips
Apart from having a well-stocked fire point, there are lots of other fire safety tips and tricks that can make your campsite safer for customers and more likely to pass a licensing inspection.
Here are some of the most important:
Make sure tents and caravans are pitched at least six meters apart to prevent the spread of fire.
Keep the overall density of your site low too, you should have no more than 30 caravans per acre.
If your site has any huts or semi-permanent structures then you may be governed by separate, more serious fire safety concerns.
Think about emergency vehicle access. Is there enough room for emergency vehicles to enter and turn around on your site? Is the site well signposted?
Make sure LPG gas bottles are stored safely.
Cut back vegetation and other things that could be combustible.
Make sure equipment, like fire extinguishers and fire reels are well maintained.
Ensure that fire buckets are filled with water, sand or fire absorption powder.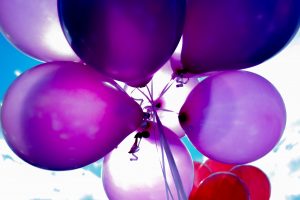 2017 marks an important milestone in H&O Plastics' history, because the Merseyside industrial packaging manufacturer turns 25 years old this year.
If H&O Plastics was a person it would be able to:
Hire a car abroad
Order a drink in Delhi
Join the Indian Merchant Navy
Thankfully it isn't going to do any of those things, it's just going to continue producing high quality products for all its customers.
What's changed in 25 years?
The company has changed a lot in two and a half decades. If you wandered into our Birkenhead site in 1992 you would barely recognise the place.
Managing Director Bob Lavender bought H&O Plastics when it was just a small, two machine plastic production shop producing mop buckets and other domestic cleaning supplies.
Before he bought H&O Plastics, Bob owned a reconditioning plant in Brunswick Dock. Coming from a background in industrial packaging he was keen to change the focus of the business away from the domestic towards making plastic industrial packaging products.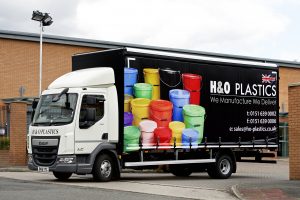 He invested heavily in the company, which now has ten plastic injection moulding machines between 250 tonnes and 500 tonnes.
H&O Plastics makes a huge range of industrial packaging products, including dozens of different styles of plastic buckets and pails, UN-approved containers and food grade plastic pots.
The challenges faced by the business have changed as well.
Competition from cheaper imports meant that the company had to focus on the quality of its products above everything else.
Through commercial and BuyBuckets, the companies online sales brand, the company has gradually built up a strong reputation with its customers, improved its service and expanded its product range.
On reaching the milestone Bob said: "H&O Plastics has come a long way in 25 years, and I hope that we can keep innovating and keep serving our customers for many more years to come.
"The thing I am probably the most proud of is that we have managed to keep so many customers loyal to us for so long. Some of our customers have been buying buckets and pails from us for more than 20 years."