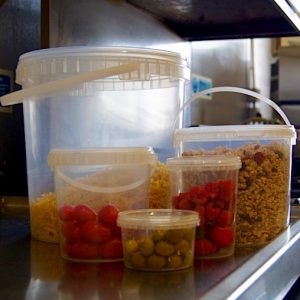 In restaurants, takeaways and other catering environments, good food storage is critical for holding onto your hot food licence. But failing to comply with the regulations could also result in customers becoming ill or, in extreme cases, death.
To make life a bit easier in busy kitchens, many caterers like to prepare meals or ingredients ahead of time and store them until they are ready to use.
Plastic food containers are perfect for this kind of food storage, but it's important you use them safely.
Here are some fast and easy tips for effective food storage with plastic containers:
Keep dry foods like flour and rice off the floor in clean, dry and well-ventilated rooms.
Make sure you only use food grade containers. This should be specified by the manufacturer.
If you decant food from its original container to a plastic food pot, make sure you keep hold of the ingredients list to make sure you can keep track of potential allergens.
'Use by' or 'best before' dates should also be marked clearly.
For dishes that are prepared or cooked, use stickers or another safe type of labelling to let everyone know what's inside and when it was made.
Follow the 'first in first out' method of stock rotation.
Where possible, separate fridges should be used for storing raw and ready-to-eat food to prevent the spread of bacteria. If they are in the same fridge, raw meat/poultry/fish should always be stored below ready-to-eat food in a clearly distinguishable part of the fridge and in covered containers.
Plan what stock you need on a shift by shift basis and make sure staff know what stock is required for each shift. This will help prevent food going bad unnecessarily.
Don't keep food in uncovered plastic pots. Make sure you have a smooth fitting lid and keep it on at all times.
If you are sending prepared materials to a customer, another site or a third party, make sure you have tamper-evident lids so the recipient can be sure of the products integrity.
Check the temperature of chilling equipment at least once a day. Don't forget that food needs to be kept below 8°C, so chilling equipment should be kept below 5°C
Don't overfill refrigerators.
The Spring bank holiday is almost upon us and what better way to spend it that getting back to nature with the ones you love.
The end of May is a fantastic time for a staycation camping holiday. Early forecasts suggest the weekend weather will be good across large parts of the country and, perhaps most mercifully, May is usually early enough to avoid the worst of the midge population – which can be a blight to campers in the early morning and evening.
Camping can be as glamorous or as pared back as you want it to be. Recent demand for more luxury camping has driven improvements to camping equipment and campsites but some people still prefer to get out with just the essentials and experience the great outdoors in a similar way to our earliest forbearers.
Whatever your preference, we have created a little checklist to make sure you do it in the best way possible.
Essentials
Sturdy tent
Sleeping bag
Sleeping mat or camp bed
Pillow
Stove with fuel and something to light it with
Pots, pans or a mess tin
Mug
Bin bags
Midge repellent
Knives and forks
Lamp
Shower gel and shampoo
Toothbrush and toothpaste
Lightweight towel
First aid kit
Sun cream (hopefully)
Gaffa tape
Toilet paper
Flip flops (trust us)
Nice to haves
Cool box
Chairs
Table
Chopping board
Rich coffee
Dish cloth
Washing up bowl
Wooden spoon
Tin opener
Razor and shaving gel
Bottle opener
Mallet
Spare pegs
Air pump
Clothing
T-shirts
Warm jumpers
Underwear and socks
Spare underwear and socks
Swimwear
Your choice of hat
Sunglasses
Waterproof clothes
Walking boots