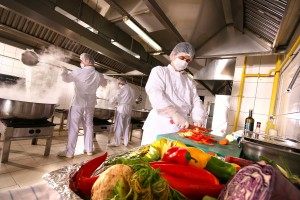 Some takeaways, restaurants and cafes could soon struggle to attract customers if the Food Standards Agency (FSA) gets its way and food outlets are forced to display their food hygiene rating in the business premises.
With the example having already been set by Wales, and the issue starting to gain more and more traction in the local and national press, it seems like it's only a matter of time before new legislation appears and all restaurants are forced to display their food hygiene rating on their front doors.
At the moment, businesses in England, Scotland and Northern Ireland are not required to display their rating to customers. And while inspection results are available online, many consumers don't look at them before ordering.
As a result, walking up and down English and Scottish high streets, hungry punters will see lots four and five star ratings, but hardly any one, two or even zero star ratings.
In 2013, Wales became the first UK country to require food outlets to display their inspection ratings. The "scores on the doors" system was labelled a huge success by the deputy health minister in late 2015 when it was revealed that the share of firms getting five star ratings jumped from 45% to just over 60%.
The FSA's strategy for 2015-2020 highlights that they want to extend the mandatory display of food hygiene ratings to outlets in England. The overseeing body has just finished a first consultation, and hopes to receive the governments blessing to press on with reforms soon. The FSA anticipates that a more thorough public consultation will take place in late 2016.09
The issue of low scoring food outlets is one that has featured heavily in the press recently. Even if zero, one and two star eateries are not forced to display their hygiene rating in a window or on a door, there is a good chance that their potential customers will find out from the local newspaper.
Almost every other week, local newspapers publish a new list of the latest zero and one starred restaurants. And they are very widely read. This particular story last month from our local Liverpool Echo was shared on social media nearly 8,000 times.
Some high profile cases have even been covered in the national press. Following a recent BBC investigation, dozens of national news outlets picked up a story about a KFC in Birmingham where 'faeces bacteria' was found in the ice.
Low scoring restaurants need to act now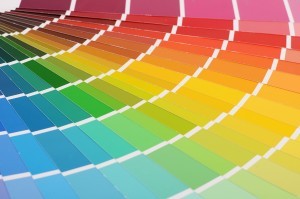 Pubs, cafes, restaurants and takeaways with low scoring kitchens could, reasonably see their businesses damaged if they are forced to display their hygiene rating.
How often inspections take place will depend on the type of business and the outlet's previous record. Inspectors can arrive without notice and have a right to inspect premises at all reasonable hours. However, with many local authority budgets stretched to the limit, inspections are becoming less and less frequent.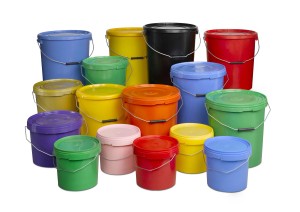 Outlets with a poor rating may struggle to get a new inspection before the mandatory display rule comes into force. Businesses need to be prepared for the changes ahead of time if they are to have a future in the food service industry.
BuyBuckets stock a huge range of food-grade plastic containers that are used in restaurants, takeaways and food production plants all across the country. In particular, our bumper selection of food-grade plastic containers in different colours helps businesses to differentiate between different sensitive food items.
Food producers, sellers, distributors and even takeaways need to take account of how they transport their products. There are a number of legal and quality based considerations to take into account. Here are six that we've identified.
Seal everything to prevent cross contamination
If you are shipping several different food items at once, or your products are likely to come into contact with any others during the logistics train, then you should ensure that they are sealed.
Tupperware containers and food-grade plastic buckets with lids are perfect for this.
Are your containers re-usable?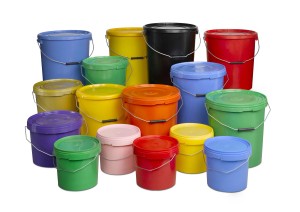 One way of controlling costs for transport of perishables is to re-use containers. Your ability to do this will depend on who you are sending products to. If you are filling regular orders to distributors, restaurants or even end-consumer, then you may be able to reuse containers or pallets and collect them when the customer is finished.
If this sounds like your business model, then you should consider investing in some heavy duty containers that will stand the test of time.
On the other hand, if your business plan calls for more one-off or infrequent orders, then this is obviously going to be more difficult. It might make more sense for these companies to purchase cheaper containers and look into options for environmentally-friendly containers.
Temperature controlled transit
If your product is frozen or otherwise sensitive to temperature changes then this is crucial. The law is also pretty stringent in this area as well.
Small businesses are unlikely to have their own distribution networks, so using well established and trusted operators that specialise in the frozen transport industry is a must.
Speed is of the essence
As well as temperature, perishable food is also sensitive to time. One of the best examples of this is transporting fish and seafood. Once out of the sea, these products immediately start losing their freshness. In short, the quicker the food gets to the plate the better.
For businesses operating in an industry where freshness is imperative, it may be better to organise your own transport systems, instead of having to rely on external operators. Conversely, these operators may have more efficient modes of transit than you could hope for.
Tamper evident containers
Using tamper evident containers is crucial if you want to make sure that your product reaches its destination in safe condition.
Push-down tamper evident lids are a cost effective solution that gives both you and your end-customer confidence in the product.
Only use food grade plastic containers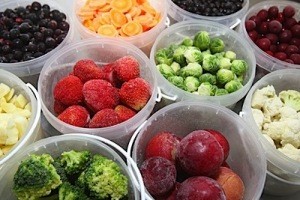 Only certain plastics are widely accepted as being safe for food-contact. Certain HDPE and LDPE plastics are ok, but one of the most widely used food-grade plastics is Polypropylene (PP).
There is a lot of interest from manufacturers and retailers in using recycled PP in food packaging. And although recycled PP is regularly used for some buckets and pallets, it is has so far proved impossible to recycle PP into food grade packaging.
Make sure that any Polypropylene containers that you use for food transport are not made from recycled sources.
Keen-eyed bucket shoppers may have noticed the latest addition to the BuyBuckets range which went live on the website this week. We are pleased to announce our newest product category as screw top plastic jars.
These new products are perfect for transporting, storing and displaying a range of different substances and products including creams, powders, tablets and foodstuffs.
Meet our newest plastic containers
Our latest offering is a range of white, screw-top jars which will seal as tightly as you can screw them. These extra tough plastic containers are tamper resistant and food-safe, meaning that they can be used to store a range of sensitive substances.
They come in a range of volumes (250, 500, 1000 and 1250ml) and lid diameters (70-115mm). They can be purchased for less than £0.40/unit.
The screw top means that the lid can never come off accidentally, making this the perfect containers for things like face creams and tablets which could potentially make a mess or cause environmental damage, if released during transit.
All of the plastic jars are fully opaque so your product will always be protected from sunlight. The sheer white colour also means that jars can easily be labelled with printed stickers or with black marker pens.
Store, transport and display all of your creams, powders and foodstuffs
These products were designed with some key products and customers in mind.
We think that this product would be perfect for storing, transporting and displaying a whole range of products including:
Creams
Powders
Tablets
Cosmetics
Other pharmaceuticals
Paints
Dyes
Pigments
Spices
Granules
Honey, jams and marmalades
Sensitive foodstuffs
And they could be used by a bunch of different people including:
Cafes, takeaways and restaurants
Pharmaceutical companies
Hobbyists
Beauticians
Would these containers make running your business easier?
We love it when our products make life simpler for business owners. Sometimes even we are astonished by the difference a simple plastic container can make to daily business life.
If one of our products has made the difference for your business then be sure to let us know on Twitter.
In the meantime browse our range of containers today and see how we can make your life easier.