Keen-eyed bucket shoppers may have noticed the latest addition to the BuyBuckets range which went live on the website this week. We are pleased to announce our newest product category as screw top plastic jars.
These new products are perfect for transporting, storing and displaying a range of different substances and products including creams, powders, tablets and foodstuffs.
Meet our newest plastic containers
Our latest offering is a range of white, screw-top jars which will seal as tightly as you can screw them. These extra tough plastic containers are tamper resistant and food-safe, meaning that they can be used to store a range of sensitive substances.
They come in a range of volumes (250, 500, 1000 and 1250ml) and lid diameters (70-115mm). They can be purchased for less than £0.40/unit.
The screw top means that the lid can never come off accidentally, making this the perfect containers for things like face creams and tablets which could potentially make a mess or cause environmental damage, if released during transit.
All of the plastic jars are fully opaque so your product will always be protected from sunlight. The sheer white colour also means that jars can easily be labelled with printed stickers or with black marker pens.
Store, transport and display all of your creams, powders and foodstuffs
These products were designed with some key products and customers in mind.
We think that this product would be perfect for storing, transporting and displaying a whole range of products including:
Creams
Powders
Tablets
Cosmetics
Other pharmaceuticals
Paints
Dyes
Pigments
Spices
Granules
Honey, jams and marmalades
Sensitive foodstuffs
And they could be used by a bunch of different people including:
Cafes, takeaways and restaurants
Pharmaceutical companies
Hobbyists
Beauticians
Would these containers make running your business easier?
We love it when our products make life simpler for business owners. Sometimes even we are astonished by the difference a simple plastic container can make to daily business life.
If one of our products has made the difference for your business then be sure to let us know on Twitter.
In the meantime browse our range of containers today and see how we can make your life easier.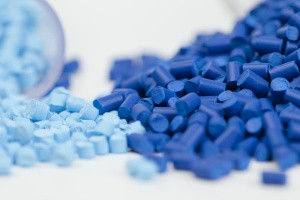 H&O Plastics manufacture and distribute buckets to businesses and individuals nationwide. We fulfil large contracts as well as smaller orders via our website. In total H&O plastics sell around two million plastic containers and other products every year.
Designing, manufacturing and delivering this many buckets each year is by no means easy. Our Birkenhead factory is open round the clock churning out thousands of containers each week.
Buying directly from the manufacturer means that there is scope for flexibility on an order – no matter how big or small it is. If you would like us to fulfil a large manufacturing contract then get in touch with a member of our production team and they will be happy to accommodate.
Polypropelyne container manufacturing
The chief input in the injection moulding process is polypropelyne. This thermoplastic polymer is common in almost every plastic household item – including plastic chairs, stationery and toys.
It's a hard and tough material which is very stress resistant. It is also resistant to electricity and harmful chemicals as well as high heats. Polypropelyne has a high 'softening' point and doesn't melt below around 160 degrees Celcius (compared to polyethylene which melts at about 100 degrees C).
In addition to polypropelyne we are familiar with using different thermoplastics and are always open to trying new things if the job requires.
Injection moulded plastic buckets
Making large quantities of plastic buckets is not easy. Some of our clients order 100,000 containers at a time and our commitment to returning orders as quickly as possible means that we need a highly efficient production method.
Injection moulding is fast, efficient and produces high quality plastic buckets, every time. We take the polypropelyne in pellet form and heat it at around 200 degrees until it is completely fluid. The melted polymer is then fed into the desired mould where it cools and sets very quickly.
The process for coloured plastic containers is a little different. During the melting process we add a dye known as a master batch to the polymer mix.
We are able to produce buckets in a wide variety of colours to client specification. In most case we are able to match client colour schemes very closely and able to offer lots of different colours.
Big contract manufacturing capability
Because we are trusted to fill such large orders in a timely manner it is important that are capabilities are up to scratch of a national manufacturer.
We have a large stock of quality Sandretto and Negri Bossi moulding machinery ranging between 250 and 500 tonnes. Each of these machines can produce between 80 and 150 plastic containers per hour meaning we are able to meet contract manufacturing jobs comfortably if given enough notice.
And because we already invested in the machining capability, the 'moulding' aspect of the machine is not that much added expense. This means we can produce a wide variety of designs in an even wider variety of colours.
If you would need some plastic container manufacturing work undertaking then get in touch with a member of our team now. We can be very flexible around client demands and can easily alter colour, shape, lid design and tamper proofing.
To discuss your needs call a member of our production team today on 0151 6399 0002.
Looking for a bucket with a lid? At H&O, all of our plastic containers come with lids (or at least the option of a lid). We don't stop there though - because we manufacture lidded containers and sell them directly to the public it means that we can be flexible around the demands of our clients.
Click here to browse our range of buckets with lids now
We have several different lidded bucket designs which are available for purchase on our website. Some of these lidded buckets have even been made bespoke for our clients. If you want us to design and manufacture a bucket with lid for your business just get in touch and we will help in any way we can.
Different lidded buckets with handles
We have created a huge array of buckets with lids for clients in numerous industries. Take a look at some of the results.
Tamper proof lids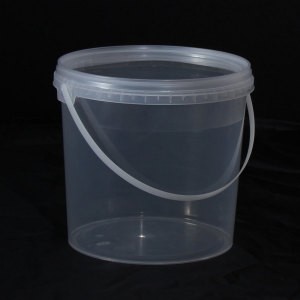 On most of our products, tamper evident lids come as standard. Tamper proofing is important to many of our customers, particularly those in the food preparation industry or those involved in the manufacturing of harmful chemicals.
In these sectors it is crucial that customers know the integrity of their product has not been compromised before it reaches them. Tamper evident containers come with a plastic tab which must be removed before the lid will open. This means the end-user can always be safe that no one has interfered with a product before it reaches them.
Shop for tamper proof lids online
Non-tamper evident containers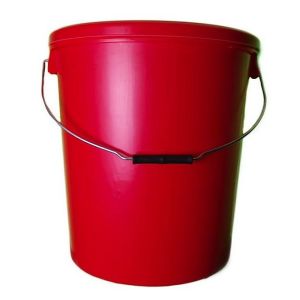 Although many of our clients prefer the peace of mind which comes with tamper evident containers – there are others who simply don't need interference proof lids. For example, we work with several tradesmen who purchase containers to store things like tools in. These clients are constantly reusing the buckets and the plastic seal can look messy once removed.
Because we manufacture the containers ourselves it is very easy for us to accommodate different designs like non-tamper evident lids. If you are in any doubt just call a member of our team.
Charity bucket with lid (with slit for coins)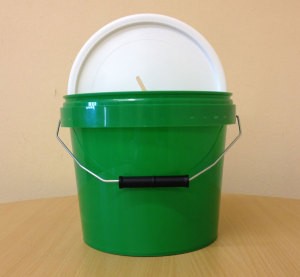 We also produce a range of containers which are designed especially for charity bucket collections. These buckets are, for all intents and purposes, the same as our other products but the lid contains a small slit wide enough to fit coins of all denominations in.
These buckets also come with the tamper evident tab feature which ensures nobody can access the collected money before it is returned to charity headquarters.
Shop for charity buckets online
UN bucket with lid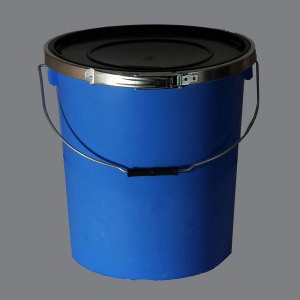 Our UN approved containers are very high quality. They are injection moulded with a high impact polypropylene making these containers extremely durable.
UN buckets are also fitted with a very secure lid, as well as rubber seals around the outside and a metal band to fasten it in place. Because of their added security features these containers are suitable for companies producing material which has the potential to pollute the environment. Especially if the material is being transported long distances or over national boundaries.
Shop for UN containers online.
Spout buckets for easy pouring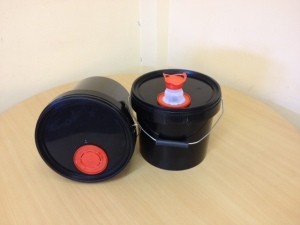 We also have products with more elaborate lid designs. One of the most unique products is our pull-out spout bucket. This container was designed especially for one of our customers who couldn't get a stackable pouring bucket at a fair price. We managed to create and manufacture this one at a fraction of what he was paying from his previous plastics supplier.
The lid on this bucket contains a retractable 'pop-out' pouring spout which makes pouring chemicals and other potentially harmful liquids very easy. When not in use the spout folds neatly back down into the bucket lid meaning the containers can be stacked and shipped with ease.