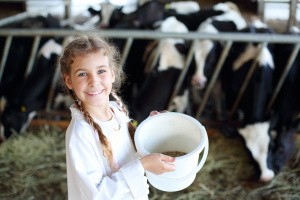 At H&O we love helping animals, that's why we work with vets, farmers and other animal lovers take care of pets, livestock and recreational animals.
Our buckets come in a massive range of shapes and sizes – we have a plastic container for every purpose. From feed buckets to water troughs and even makeshift animal baths, our containers help care for animals in a number of different ways.
The selection of standard plastic buckets come in lots of different sizes, from small (0.5, 1, 2 and 5 litre) to large (30, 25, 20, 16 and 10 litre), so whether you own a chicken or a horse you can be sure to find a container suitable for your animal.
100% safe feeding buckets
The most important advantage that H&O plastic containers have over other lower quality products is that they are food-grade quality.
This food safe guarantee means that there is no need to worry about harmful chemicals seeping off the plastic into any food or water and potentially harming the animals.
This is always the first priority for our customers so it is our first priority as well.
Heavy-duty horse buckets
There is no need to worry as well if your animal is particularly strong and boisterous. The chewed up furniture that is familiar to all dog owners will not affect H&O plastic buckets.
All of our buckets are made from a high quality polymer, and we use more raw materials in our buckets than other cheaper suppliers. This makes our plastics extremely stress-resistant and highly durable – they are even suitable for horses.
Farm storage containers with lids
We understand how difficult it can be for farmers to keep everything safe and dry, particularly with the British weather. Luckily we have a huge range of lidded containers that are ideally suited to storing a variety of materials for long periods of time without it becoming damaged.
Our open top kegs, coming in sizes from 30L to 220L all come with heavy-duty lids and are perfect for storing feed, seed or even dung. They all come with easy-carry side handles and can be moved easily with forklift trucks.
H&O Plastics also provide a helping hand to farmers with our plastic jerry cans. Coming in a range of sizes, these plastic containers are far cheaper than their metal alternatives but are almost as durable – meaning they are highly suited to storing red tinted farm diesel for long periods of time.
Plastic containers for farms, vets, riding clubs and racecourses
We work hard to keep our customers happy, so they can keep their animals happy. Visit our online shop and find the plastic container suitable for your animals.