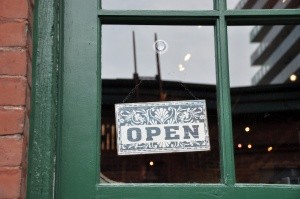 Here at H&O we love to help out small businesses. We know how difficult it can be to keep everything ticking over smoothly, especially when you don't have the same resources as some of your larger competitors.
We work with hundreds of different small businesses providing them with containers to help carry out a wide variety of operations. From storage and transportation to presentation and brand building, our buckets can do it all.
To showcase just a few uses we've decided to produce a short blog post about which types of businesses use our products and how they help in the day-to-day running of operations.
Kitchens, cafes and takeaways
We work with professional chefs in all kinds of different venues – helping them create great tasting food for the whole nation.
Many of the chefs we work with are simply too busy to produce everything fresh all the time. Many of the cooks elect to use our medium sized plastic containers to prepare and store things like cooking sauce before the kitchen gets too busy.
In clean-conscious environments like kitchens, these buckets work really well because they are so easy to clean. This means they can be re-used over and again without worrying about bacteria building up. In addition, we offer these buckets in a variety of colours. This means that professional chefs can easily identify what is in a bucket and prevent cross contamination.
More recently, we helped a more upmarket takeaway restaurant when they needed a larger container in which to deliver some food. They decided to use our small 1L clear plastic buckets because they were larger, and looked more appealing than the containers they used previously.
Tradesmen
Tradesmen like to use H&O plastic buckets because they know that they can rely on them not to break under pressure.
We know that builders vans can get very messy very quickly. We used to have tradesmen coming to us simply because it would take them an age to find the right type of screw or connector in their van. Using small lidded containers they could effectively store and locate all of their kit in no time.
Our containers are also used to transport things around sites. Our large heavy duty handled buckets can make lighter work of heavy lifting  especially because they can be carried by two people.
Vets
Some of our more recent customers include veterinarians. We know that looking after animals day and night can be difficult, especially when they are sick or restless. We try to make life simpler for these animal heroes by offering cheap containers to store food and medicine in.
Because our plastic containers are 100% food safe, and the chemicals do not run from the container into any organic matter – you can be sure that pets are safe consuming anything which has been stored in them.
Farms
Farmers love our products for the same reason as vets – because they can be sure the plastic will not react with animal feed or medicine. But we have also helped more adventurous agriculturalists boost their business with the use of buckets.
This year, when he was due to attend a trade show, one of our clients came to us asking for a bucket with his logo printed on. We were able to accommodate the request and the client took this branded bucket to the trade show where he gave it out to potential customers along with his sales documentation.
The branded buckets will likely be used again and again by his potential customers who will remember the name of his business for as long as the bucket survives (and we can assure you they last for a long time).
Television studios
Yes our buckets have even made it onto the small screen. If any big-time television or movie executives want to make our plastic containers more famous than they already are then just let us know.
Visit our main shop page here.